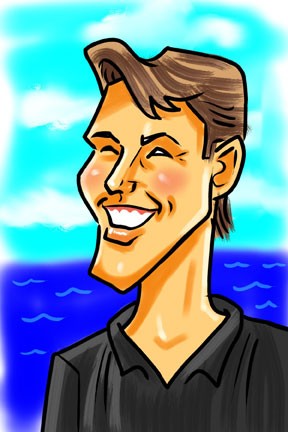 Tiki
Live Party/Event Caricatures
As a young tot growing up in So. Cal, Tiki would wile away the hours by drawing people, animals and imaginary creatures. He would spend countless hours learning from Mad Magazine, Sunday Comics, Life Magazine, & Comic Books. In High-School there was an inkling of his future career when, after drawing one of the girls in her Graduation Book, several others lined up to have theirs drawn as well. Upon High School Graduation, he obtained a job at Six Flags Magic Mountain, Valencia painting tattoos, then caricature drawing. He honed his craft amidst the gang fights and cotton candy. Promoted to Universal Studios in Hollywood, he also drew movie posters, storyboards, and a daily comic strip, whilst entertaining tourists from around the world with caricature drawing. Drawn to Asia by the arts (and a beautiful woman), Tiki went to Japan and reveled in the ancient wisdom of Buddha, Anime Art, Sumie Brush Painting and Sushi. Obtaining a job at Tokyo Disneyland, there he cut silhouettes on Main Street and made airbrush caricature drawings. Venturing off to another massive theme parks in Japan, he partnered up with a Ronin, an Empress, and a Priestess of the Night, eventually running his own cartoon concession at two other well known theme parks in the area; SEGA Joyopolis and Sea Paradise. After being wildly successful, at business and love, he and his small family decided to move to Hawaii, where their son could grow up speaking English (yes, we do speak English in Hawaii) and frolic in the natural beauty, fresh air, and clean water. He subsequently put on 20 pounds. In Hawaii Tiki further developed his digital graphic and animation skills, creating video games for an Education Company in Honolulu, Web Designs, E-Card Animations, Graphics, and a 15 episode TV series for Nickelodeon. After a seven year hiatus, he has returned to his roots...caricature drawing, with a twist. He does it on a tablet computer, (like the IPAD) drawing directly onto the screen. A melding of art and technology, the Right and Left lobes, connected by one, cerebellum with Hilarity & Laughter for all.
Samples
Rates & Booking Information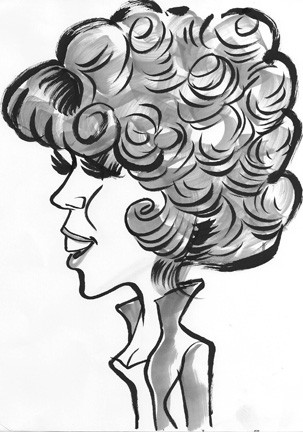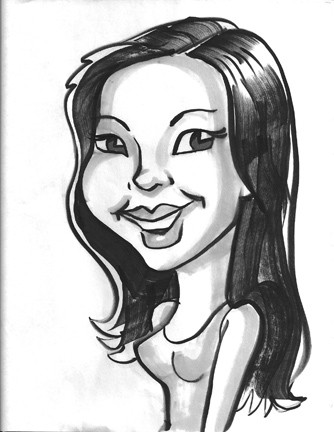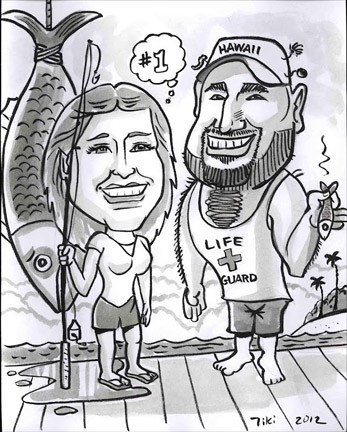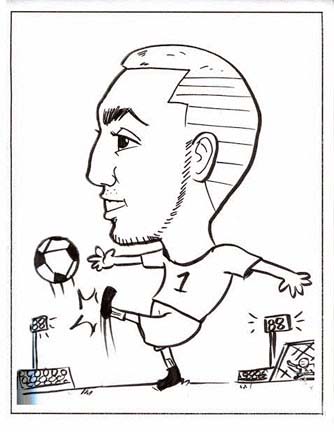 Caricatures © Tiki. Used by permission.

Tiki
SERVES
Metropolitan Areas (hourly minimums)
Hawaii
Honolulu (2-hour minimum)
Maui (4-hour minimum)
Waialua (3-hour minimum)
Travel charges may apply outside these areas.

RATES*


• $175 per hour. - All prices U.S. dollars, see minimum times (above)
SPEED**

• Up to 20 people per hour, black & white, heads only.
• Up to 15 people per hour, black & white, with bodies.
• Up to 10 people per hour, color, heads only.
• Up to 8 people per hour, color, with bodies.

SIZE
• 8.5x11 , x
MEDIA
• Brush Pen, Ink Brush, Markers
REQUIRES
from customer • Chairs, Table
ALSO OFFERS
• Bags to protect drawings • Strolling - additional charge - requires prior arrangement.
• protective cover


*Prices subject to change. December/Holiday rates may be higher. Holidays vary by artist,
and generally include Thanksgiving through New Years and 3-day weekends.
**Number of people per hour is approximate and cannot be guaranteed.
To book Tiki or inquire about any artist, simply use our online form.
See All Honolulu • Maui Caricature Artists
Or, call The-Nose.com Toll-Free at 1-888-234-7158. Please include:
•Your Name and Daytime Phone Number
•Artist's name •Date, Time, City, and State of your event.
Questions? Email us or call Toll-Free 1-888-234-7158

01250