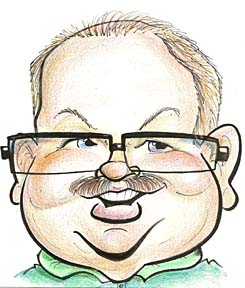 Russ
Live Party/Event Caricatures
In 2009 Russ gave up his license as a Real Estate Agent and decided to follow a lifelong dream to draw Caricatures and Entertain crowds of people. Since that day he has drawn at Wedding Receptions, Corporate Events, Holiday Parties, Collegiate Events, Proms & After Proms, Graduation Parties, Trade Shows, and every year in August you'll find him set up at the Western & Southern Open Professional Tennis Tournament near Cincinnati, Ohio. Russ works at a french easel, allowing for crowds to gather behind him and watch along as the drawing and entertainment takes place. Russ proudly states that the artwork created is only 50% of what he provides, the other 50% is ENTERTAINMENT!! Russ presents a professional image, both in his set up and attire, dressing event appropriate from beach party casual to full jacket and tie formal. All of Russ' drawings are done on high quality stock paper, and are individually bagged for added protection, and are suitable for framing as a lifelong keepsake momento. Russ also offers Gift/Studio Caricatures drwan from photographs.
Samples
Rates & Booking Information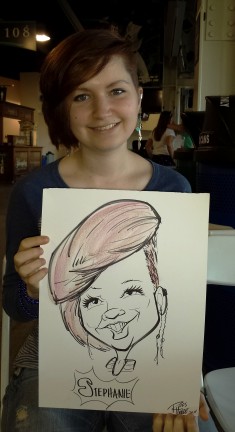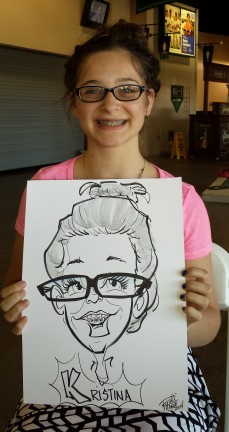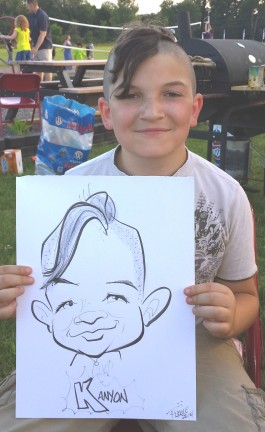 Caricatures © Russ. Used by permission.

Russ
SERVES
Metropolitan Areas (hourly minimums)
Indiana
Indianapolis (3-hour minimum)
Richmond (2-hour minimum)
Kentucky
Florence (3-hour minimum)
Ohio
Cincinnati (3-hour minimum)
Columbus (2-hour minimum)
Dayton (2-hour minimum)
Toledo (4-hour minimum)
Travel charges may apply outside these areas.

RATES*


• $140 per hour. - All prices U.S. dollars, see minimum times (above)
SPEED**

• Up to 15 people per hour, black & white, heads only.
• Up to 10 people per hour, black & white, with bodies.
• Up to 8 people per hour, color, heads only.
• Up to 6 people per hour, color, with bodies.

SIZE
• 11x14 , x (max 5 per page)
MEDIA
• Marker and Color Sticks
REQUIRES
from customer • 3 chairs, well lit area or access to electirc outlet for lights, if outdoors- a shaded area
ALSO OFFERS
• Bags to protect drawings • Paper preprinted with logo and/or event information or custom background - additional charge - requires prior arrangement.



*Prices subject to change. December/Holiday rates may be higher. Holidays vary by artist,
and generally include Thanksgiving through New Years and 3-day weekends.
**Number of people per hour is approximate and cannot be guaranteed.
To book Russ or inquire about any artist, simply use our online form.
See All Dayton • Richmond Caricature Artists
Or, call The-Nose.com Toll-Free at 1-888-234-7158. Please include:
•Your Name and Daytime Phone Number
•Artist's name •Date, Time, City, and State of your event.
Questions? Email us or call Toll-Free 1-888-234-7158

0900