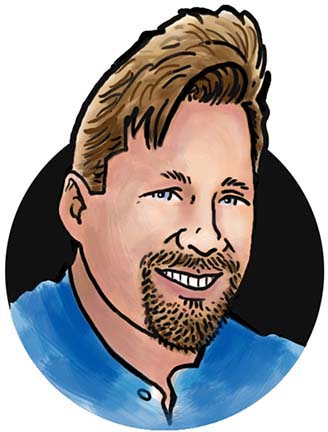 Richard
Live Party/Event Caricatures
With over 40,000 portraits drawn and 34 years of experience, Richard's primary goal is to capture a likeness.  What good is a caricature if it doesn't look like the subject?  With this in mind, Richard will engaged guests in a fun loving, friendly way while producing a gentle portrait that makes friends smile and subjects enjoy and will want to hang up.  It is not uncommon to hear guests state "I'm going to frame this."     Richard loves drawing your guests doing their favorite activity and loves to be challenged to draw anything your guests can come up with, He has yet to be stumped by any request.  Drawing an average of one portrait every 5 minutes, he has drawn up to 10 heads on a single caricature and can draw from cell phone pictures and photographs.  He works in marker and colored pencil on 8.5"x11" high quality 12 point cover paper stock.  After capturing the likeness of his subjects and depicting them in their favorite activity, the final artwork is placed in a clear plastic bag for safe transport.   Clients include: General Motors, Ford Motor Company, Chrysler Corporation, Detroit Lions, Compuware Corporation, Taubman Company, Greenfield Village, The Detroit Institute of Art, Henry Ford Health Systems, Greektown Casino, Meadowbrook Hall, The Detroit Zoo, The Society of Automotive Engineers, Little Caesar's Pizza, The Roostertail, Butzel Long, Crain's Communications, The Jewish News, Autoweek Magazine, The Ritz Carlton, The Weston Hotel and many, many more.
Samples
Rates & Booking Information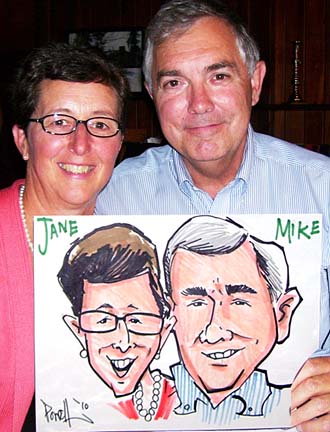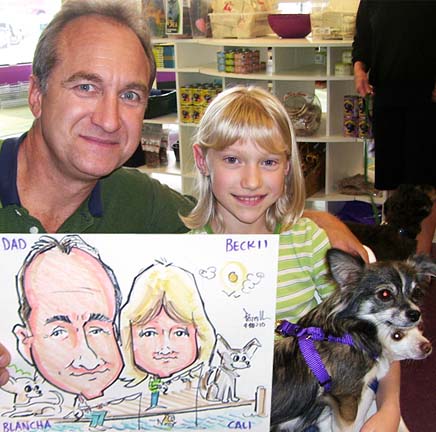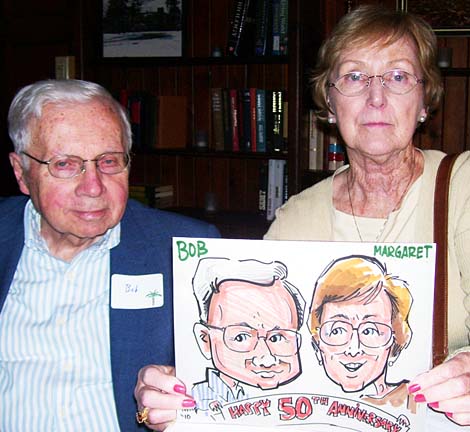 Caricatures © Richard. Used by permission.

Richard
SERVES
Metropolitan Areas (hourly minimums)
Michigan
Ann Arbor (3-hour minimum)
Detroit (2-hour minimum)
Lansing (4-hour minimum)
Ohio
Toledo (4-hour minimum)
Travel charges may apply outside these areas.

RATES*


• $150 per hour. - All prices U.S. dollars, see minimum times (above)
SPEED**

• 12 to 16 people per hour, black & white, heads only.
• 10 to 12 people per hour, black & white, with bodies.
• 10 to 12 people per hour, color, heads only.
• 8 to 10 people per hour, color, with bodies.

SIZE
• 8.5"x11" (max 10 per page)
MEDIA
• Color marker, color pencil
REQUIRES
from customer • Small table, 4 chairs, electric outlet. Full shade/cover if drawing outside
ALSO OFFERS
• Bags to protect drawings


*Prices subject to change. December/Holiday rates may be higher. Holidays vary by artist,
and generally include Thanksgiving through New Years and 3-day weekends.
**Number of people per hour is approximate and cannot be guaranteed.
To book Richard or inquire about any artist, simply use our online form.
See All Detroit • Detroit Caricature Artists
Or, call The-Nose.com Toll-Free at 1-888-234-7158. Please include:
•Your Name and Daytime Phone Number
•Artist's name •Date, Time, City, and State of your event.
Questions? Email us or call Toll-Free 1-888-234-7158

01000