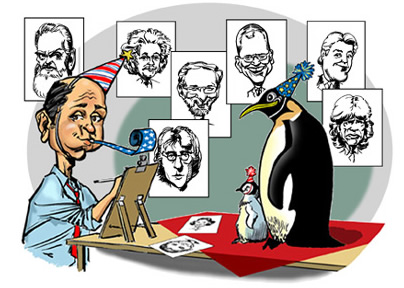 Norman
Live Party/Event Caricatures
Norman's style is realistic and more flattering than exaggerated. Teeth braces are removed (no charge) wrinkles are subdued (again, no extra charge) and unsightly protuberances, when they do occur, are minimized to simple identifying characteristics. Norm has been particularly active on the Bar/Bas Mitzvah circuit where he has trained himself to focus amidst the noise and revelry of large parties while enjoying the challenge of flattering the maidens and recording the face of early teendom with a keen eye and well placed marker and graphite strokes. Clients will enjoy having Norm at their event. Hire Norm and your guests will leave the event with an excellent likeness destined for some place of honor in basement or den.
Samples
Rates & Booking Information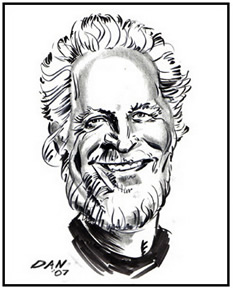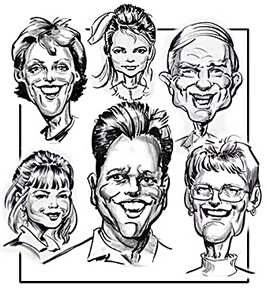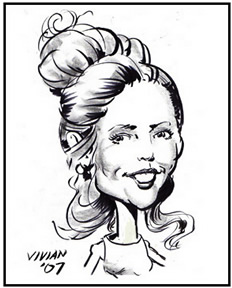 Caricatures © Norman. Used by permission.

Norman
SERVES
Metropolitan Areas (hourly minimums)
New York
Central Long Island (2-hour minimum)
Western Long Island (2-hour minimum)
Travel charges may apply outside these areas.

RATES*


• $170 per hour. December/Holidays: $185 per hour. - All prices U.S. dollars, see minimum times (above)
SPEED**

• Up to 12 people per hour, black & white, heads only.

SIZE
• 11x14 (max 5 per page)
MEDIA
• Magic marker and graphite stick
REQUIRES
from customer • Chairs and a table.


*Prices subject to change. December/Holiday rates may be higher. Holidays vary by artist,
and generally include Thanksgiving through New Years and 3-day weekends.
**Number of people per hour is approximate and cannot be guaranteed.
To book Norman or inquire about any artist, simply use our online form.
See All Central Long Island • Western Long Island Caricature Artists
Or, call The-Nose.com Toll-Free at 1-888-234-7158. Please include:
•Your Name and Daytime Phone Number
•Artist's name •Date, Time, City, and State of your event.
Questions? Email us or call Toll-Free 1-888-234-7158

01200
01350h