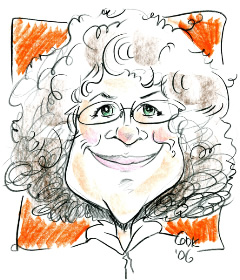 Karen
Live Party/Event Caricatures
Karen began her portrait and caricature career at Disneyland in 1965. After 21 years of drawing faces at local fairs and events, she met famous caricature artist "Pancho" Willmarth, who drew faces at the Brown Derby during Hollywood's heyday. Pancho showed Karen the ropes of the caricature profession and now she's branched out into the higher realms of this field. Her MAD magazine style depictions of her clients take as little as three to five minutes for a profile and 10 minutes for a front view. Karen not only does her "quick-draws" at corporate affairs and private parties, she also does "high-class" portraits for commemorative occasions and for special and unusual gifts.
Samples
Rates & Booking Information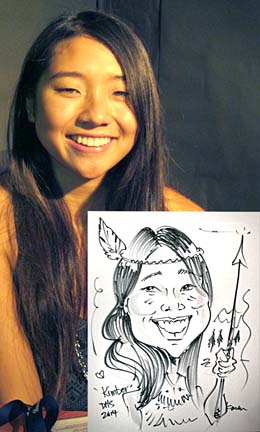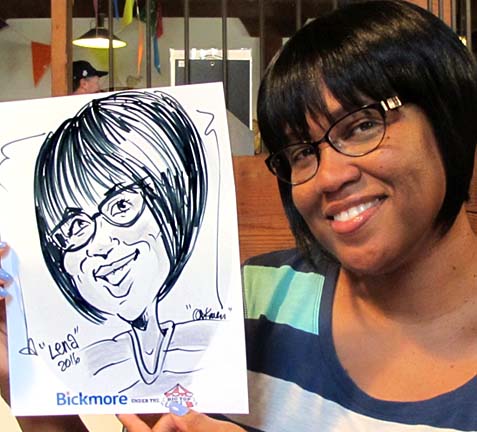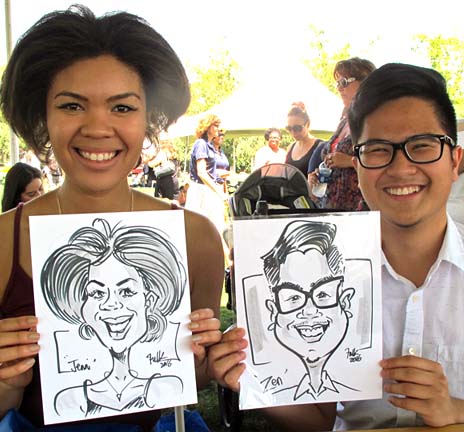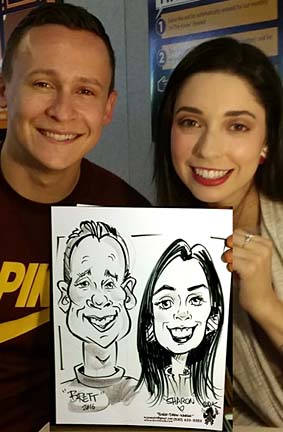 Caricatures © Karen. Used by permission.

Karen
SERVES
Metropolitan Areas (hourly minimums)
California
Sacramento (2-hour minimum)
Travel charges may apply outside this area.

RATES*


• $175 per hour. - All prices U.S. dollars, see minimum times (above)
SPEED**

• Up to 20 people per hour, black & white, heads only.
• Up to 6 people per hour, color, heads only.
• head profiles only, 3/4 view, with or w/o bodies, black & white with shading

SIZE
• 11x17 , 85x11 , kids 8.5" x 11" (max 6 per page)
MEDIA
• Profiles are on slick paper w/ felt pen. 3/4 are on regular cardstock w/ crayon
ALSO OFFERS
• Paper preprinted with logo and/or event information or custom background - additional charge - requires prior arrangement.



*Prices subject to change. December/Holiday rates may be higher. Holidays vary by artist,
and generally include Thanksgiving through New Years and 3-day weekends.
**Number of people per hour is approximate and cannot be guaranteed.
To book Karen or inquire about any artist, simply use our online form.
See All Sacramento Caricature Artists
Or, call The-Nose.com Toll-Free at 1-888-234-7158. Please include:
•Your Name and Daytime Phone Number
•Artist's name •Date, Time, City, and State of your event.
Questions? Email us or call Toll-Free 1-888-234-7158

01250