Chip
Live Party/Event Caricatures
Art Institute of Pittsburgh graduate and professional caricaturist since 1980. Chip specializes in drawing live-on-the-spot caricatures using black bullet-nibbed marker on paper sizes: 14" x 17" (singles & children) and 18" x 24" ( couples & groups). With an entertaining approach and delivery, Chip captures a person's mood and expression using his speedy technique and exaggerated lines. Drawing at a fast pace of 30-40 people per hour, Chip is conditioned for "marathon days" at festivals, weddings, reunions, conventions, trade shows, etc. Chip is a well-travelled artist/entertainer in Central Pennsylvania and ventures as far west as Pittsburgh and southeast to Philadelphia, Baltimore and Washington, D.C. Chip also does full-color situation watercolor caricatures for individuals, corporations and publications.
Samples
Rates & Booking Information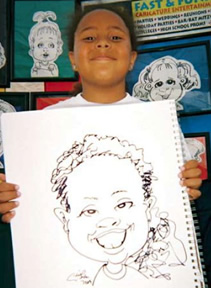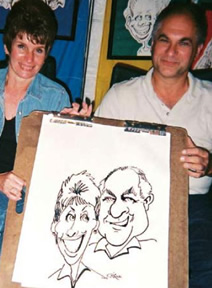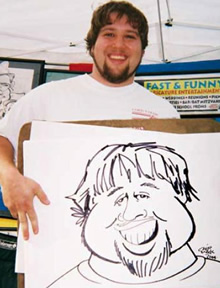 Caricatures © Chip. Used by permission.

Chip
SERVES
Metropolitan Areas (hourly minimums)
Pennsylvania
Altoona (2-hour minimum)
Harrisburg (2-hour minimum)
Pittsburgh (2-hour minimum)
State College (2-hour minimum)
Travel charges may apply outside these areas.

RATES*


• $225 per hour. - All prices U.S. dollars, see minimum times (above)
SPEED**

• 40 to 45 people per hour, black & white, heads only.


*Prices subject to change. December/Holiday rates may be higher. Holidays vary by artist,
and generally include Thanksgiving through New Years and 3-day weekends.
**Number of people per hour is approximate and cannot be guaranteed.
To book Chip or inquire about any artist, simply use our online form.
See All Pittsburgh • Harrisburg Caricature Artists
Or, call The-Nose.com Toll-Free at 1-888-234-7158. Please include:
•Your Name and Daytime Phone Number
•Artist's name •Date, Time, City, and State of your event.
Questions? Email us or call Toll-Free 1-888-234-7158

01750