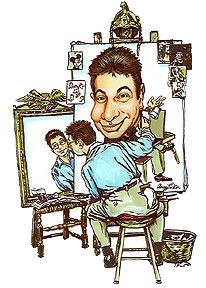 Aron
Live Party/Event Caricatures
Aron has had over 20 years of professional Caricature experience. He has entertained on the Queen Elizabeth II (QE2) for over 12 years. He was recently featured on The Morning Show (Fox TV) and Cablevision's Neighborhood Journal Show did an episode on him. Aron's work has also appeared in Marvel Comics, Cracked Magazine, Warner Brothers and many other publications. As an animator, his cartoons can also be seen on national television, in feature films and in countless advertisements. As an entertainer and lecturer on cartooning, here and abroad, his humorous creations have amused people all over the world. Fast, funny and entertaining! He does a full-color detailed caricature in about 5 minutes. His faces are more on the realistic side making sure to capture a good likeness. He's known for being very flattering with his portrayals. He also draws the guests in any setting they wish with full bodies along with appropriate props and backgrounds. He has a very attractive display using a French easel set up at a 90 degree angle so everyone can watch the picture come to life. He also has a full-color framed display of celebrity caricatures showcasing his talent for party guests.
Samples
Rates & Booking Information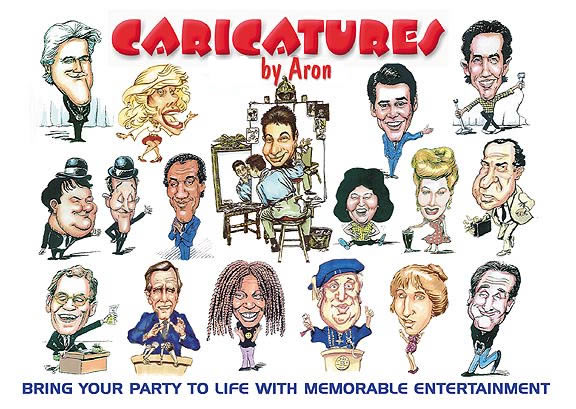 Caricatures © Aron. Used by permission.

Aron
SERVES
Metropolitan Areas (hourly minimums)
New York
Long Island (2-hour minimum) (Weekends 3)
Eastern Long Island (2-hour minimum) (Weekends 3)
Central Long Island (2-hour minimum) (Weekends 3)
Western Long Island (2-hour minimum) (Weekends 3)
New York City - Manhattan (3-hour minimum) – Add $35 for jobs within city limits.
Travel charges may apply outside these areas.

RATES*


• $150 per hour. Overnight Events: $175 per hour. - All prices U.S. dollars, see minimum times (above)
SPEED**

• 12 to 15 people per hour, black & white, with bodies.
• 10 to 12 people per hour, color, with bodies.

SIZE
• 11x14
MEDIA
• Permanent marker on Bristol paper
REQUIRES
from customer • 2 armless chairs, well-lit area or access to electric outlet. Full shade if outside
ALSO OFFERS
• Bags to protect drawings - free at all events.



*Prices subject to change. December/Holiday rates may be higher. Holidays vary by artist,
and generally include Thanksgiving through New Years and 3-day weekends.
**Number of people per hour is approximate and cannot be guaranteed.
To book Aron or inquire about any artist, simply use our online form.
See All Long Island • Eastern Long Island Caricature Artists
Or, call The-Nose.com Toll-Free at 1-888-234-7158. Please include:
•Your Name and Daytime Phone Number
•Artist's name •Date, Time, City, and State of your event.
Questions? Email us or call Toll-Free 1-888-234-7158

01000
01250o