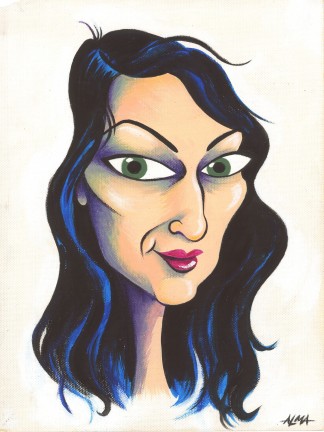 Alma
Live Party/Event Caricatures
Note: Alma will be available for bookings after April 15, 2018. Alma is a Canadian artist specializing in cartoon & caricature for corporate & special events since 1983. Clients have included Cirque du Soleil, Rogers, IBM, McDonalds Canada, World Series All-Star Baseball Fanfest, Luminato Festival, Royal Bank of Canada, Tech Data, Discovery Channel, Federal Liberal Party, Globe & Mail, Toronto Board of Trade, Canadian Tourism Commission among many others. Wow your clients as they watch caricatures being created of colleagues in only 7 to 10 min.! Each caricature includes the sitter's sport, hobby, profession or claim to fame. Alma's caricatures are hilarious entertainment for ages 4 to 104! Alma captures each person's likeness & personality in a quality caricature they will want to keep, making your event even more memorable.
Samples
Rates & Booking Information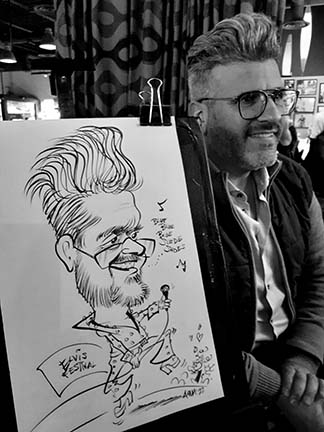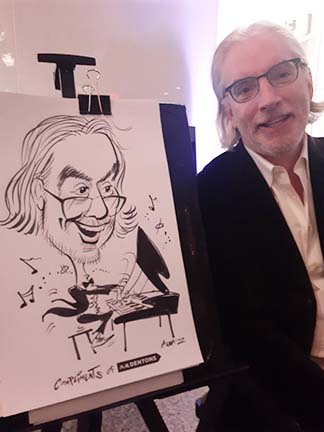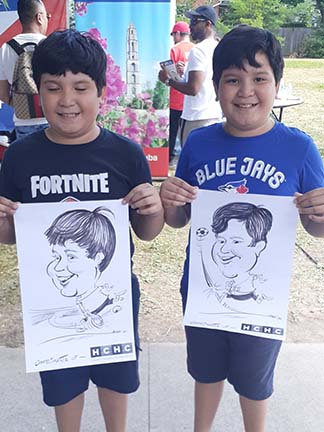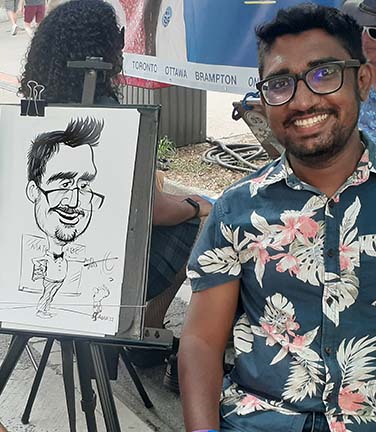 Caricatures © Alma. Used by permission.

Alma
SERVES
Metropolitan Areas (hourly minimums)
Ontario
Hamilton (3-hour minimum)
Kitchener/Waterloo (3-hour minimum)
Toronto (2-hour minimum)
York Region (2-hour minimum)
Travel charges may apply outside these areas.

RATES*


•

US

$125 per hour. - All prices U.S. dollars, see minimum times (above)
SPEED**

• Up to 12 people per hour, black & white, heads only.
• Up to 7 people per hour, black & white, with bodies.
• Up to 8 people per hour, color, heads only.
• Up to 6 people per hour, color, with bodies.

SIZE
• 11x17 , 11x14 (max 2 per page)
MEDIA
• markers
REQUIRES
from customer • 2 chairs, small table, lighting outlet, away from speakers
ALSO OFFERS
• Paper preprinted with logo and/or event information or custom background - additional charge - requires prior arrangement.
• Caricatures on T-shirts • group caricatures drawn on site on illustration board any size, see photo, caricatures projected onto a screen, colour caricatures, mailing tubes, elastic bands to roll caricatures up


*Prices subject to change. December/Holiday rates may be higher. Holidays vary by artist,
and generally include Thanksgiving through New Years and 3-day weekends.
**Number of people per hour is approximate and cannot be guaranteed.
To book Alma or inquire about any artist, simply use our online form.
See All Toronto • Kitchener/Waterloo Caricature Artists
Or, call The-Nose.com Toll-Free at 1-888-234-7158. Please include:
•Your Name and Daytime Phone Number
•Artist's name •Date, Time, City, and State of your event.
Questions? Email us or call Toll-Free 1-888-234-7158

0700