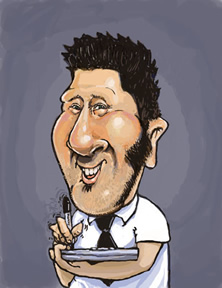 Adam
Live Party/Event Caricatures
I do lightning fast, yet accurate caricatures. All of my samples here, including my self portrait are indicative of my 'under 60 second' party caricatures. I CAN DRAW OVER 60 PEOPLE PER HOUR!! That's right, a caricature every minute! Not only is my speed impressive but it's fun to watch, keeps lines short and everybody gets drawn. There is no set up/take down time or special lighting to worry about either. If you have around 120 guests, you would book me for 2 hours, get it?! IT'S EASY! I can actually average about 75 accurate, flattering and funny faces per hour personally but I am capable of doing over 100!!!. I am one of the worlds fastest artists and have been doing this for over 16 years. I tend to spend a little extra time drawing the hairdos, gowns and outfits when appropriate however, so 60 is an accurate rate in most cases and the minimum pace I go for. Your goal is to have ALL of your guests get a caricature at your event, I know that and I want you to get what you pay for!

In addition to the traditional caricatures shown on this page, Adam also draws Digital Caricatures!
Samples
Rates & Booking Information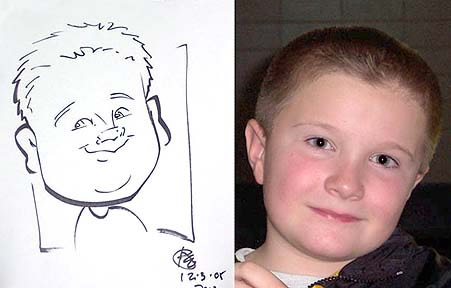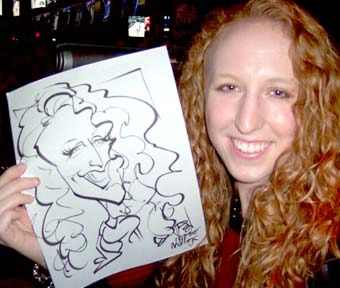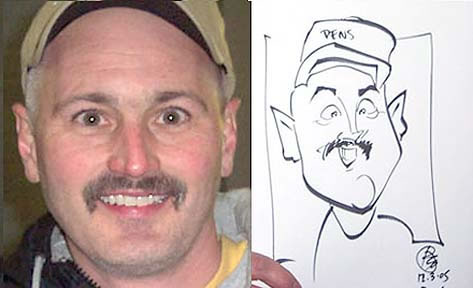 Caricatures © Adam. Used by permission.

Adam
SERVES
Metropolitan Areas (hourly minimums)
Ohio
Akron (2-hour minimum)
Canton (2-hour minimum)
Cleveland (2-hour minimum)
Also serves Sandusky OH (2 hour minimum)
Travel charges may apply outside these areas.

RATES*


• $250 per hour. - All prices U.S. dollars, see minimum times (above)
SPEED**

• 60 to 75 people per hour, black & white, heads only.
• 40 to 60 people per hour, black & white, with bodies.
• 30 to 50 people per hour, color, heads only.
• 15 to 20 people per hour, color, with bodies.

SIZE
• 85x11 , 11x14 (max 12 per page)
MEDIA
• Marker, Crayon.
REQUIRES
from customer • 3 chairs or nothing at all.
ALSO OFFERS
• Paper preprinted with logo and/or event information or custom background - additional charge - requires prior arrangement.
• Caricatures on T-shirts • Strolling - free at all events.
• Frames or mattes for drawings - additional charge - requires prior arrangement.
• mattes- extra charges apply


*Prices subject to change. December/Holiday rates may be higher. Holidays vary by artist,
and generally include Thanksgiving through New Years and 3-day weekends.
**Number of people per hour is approximate and cannot be guaranteed.
To book Adam or inquire about any artist, simply use our online form.
See All Cleveland • Canton Caricature Artists
Or, call The-Nose.com Toll-Free at 1-888-234-7158. Please include:
•Your Name and Daytime Phone Number
•Artist's name •Date, Time, City, and State of your event.
Questions? Email us or call Toll-Free 1-888-234-7158

02000