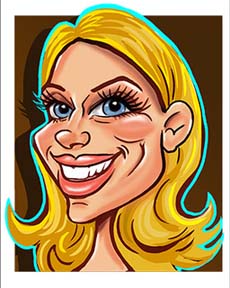 Rachel
Live Digital Caricatures
Rachelís style is fun and professional which is popular for many events. Your guests will absolutely love having their personal caricature to take home. Rachel began drawing Caricatures in 1991 at Valleyfair, MN and now has over 20 years experience drawing for trade shows, fairs and partyís throughout the United States. Rachel has a Commercial Art Degree from MCTC, she furthered her studies in traditional oil painting at Hurinenko & Paquet Studio. †Rachel works vertically on a french easel for easy viewing in a crowd.
Samples
Rates & Booking Information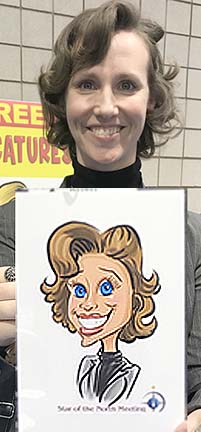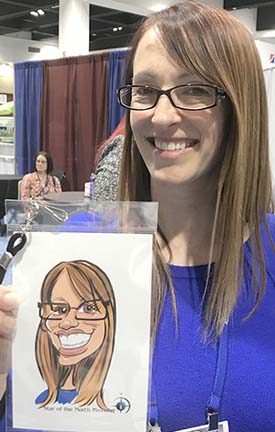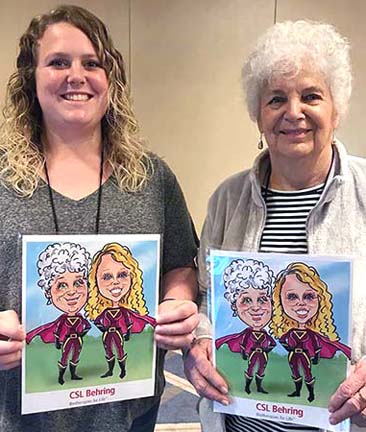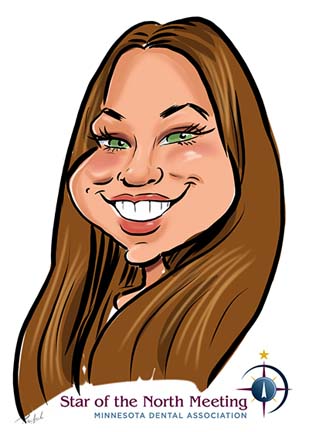 Caricatures © Rachel. Used by permission.

Rachel
SERVES
Metropolitan Areas (hourly minimums)
Minnesota
Minneapolis-St Paul (3-hour minimum)
Duluth (2-hour minimum)
Wisconsin
Eau Claire (2-hour minimum)
Superior (2-hour minimum)
Wisconsin Dells (4-hour minimum)
Green Bay (4-hour minimum)
Wausau (3-hour minimum)
Rhinelander (2-hour minimum)
Green Bay (4-hour minimum)
Travel charges may apply outside these areas.
RATES*
(all rates in U.S. dollars)
$250/hr
SPEED**
10-12 caricatures/hour
PRINT SIZE(s)
•4x6
•8.5x11
HARDWARE / SOFTWARE
• Cintiq Hybrid, I-Pad Pro with pencil, 32 inch Monitor, 2 Cannon Printers
REQUIRES
from customer • outlet Table

*Prices subject to change. December/Holiday rates may be higher.
**Number of people per hour is approximate and cannot be guaranteed.

02000