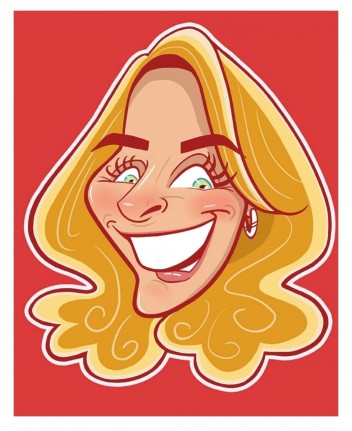 Angie
Live Digital Caricatures
Multi-award winning artist and author, Angie, one of the first handful of digital artists in the world, is now innovating digital caricatures as THE world's first iPad Caricaturist. Angie's two books were sold worldwide to artists wanting to learn her tricks of the trade. She also taught hundreds of artists about iPad Caricatures, at her packed seminar at the 2011 International Society of Caricature Artists convention. And she brings her live digital caricature presentations to many schools and colleges. Angie attended Kutztown University in the USA, won many awards, and published her art in magazines, newsapers and military brochures. Angie has been featured on television and radio performing her cartoon and caricature skills, even attended and digitally cartooned Sofia Vergara's at her NYC Fashion show that featured in the NY Post. Angie has since been making appearances across the nation drawing at private parties, trade shows, conventions and special events and working with companies, such as Google, Coca Cola, Infosys and more.
Samples
Rates & Booking Information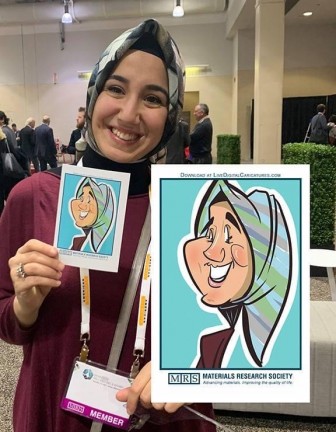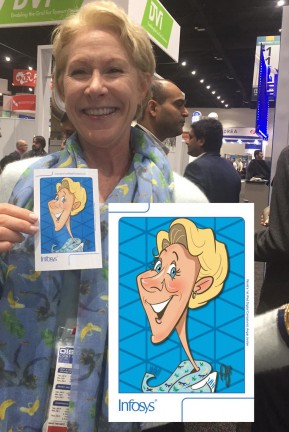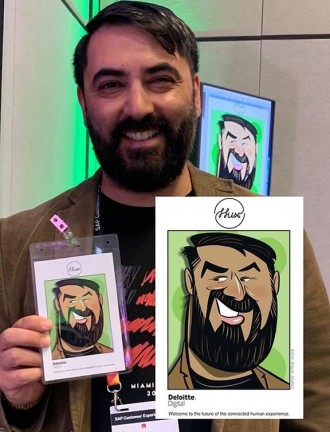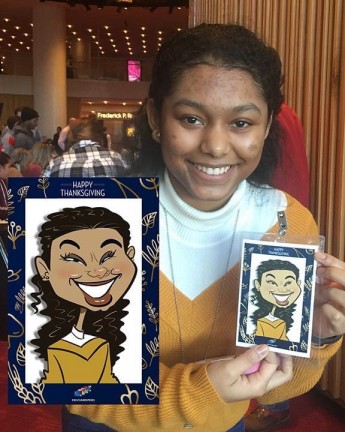 Caricatures © Angie. Used by permission.

Angie
SERVES
Metropolitan Areas (hourly minimums)
Pennsylvania
Lancaster (3-hour minimum)
Philadelphia (3-hour minimum)
Harrisburg (3-hour minimum)
York (3-hour minimum)
Reading (3-hour minimum)
Delaware
Wilmington (3-hour minimum)
Newark (3-hour minimum)
Pennsylvania
Gettysburg (3-hour minimum)
Allentown (4-hour minimum)
Wilkes-Barre (4-hour minimum)
Scranton (4-hour minimum)
State College (4-hour minimum)
The Poconos (4-hour minimum)
Maryland
Baltimore (3-hour minimum)
Annapolis (4-hour minimum)
District of Columbia
Washington DC (4-hour minimum)
Travel charges may apply outside these areas.
RATES*
(all rates in U.S. dollars)
$250/hr
• $300/hr (December rate)
SPEED**
15-18 B&W, 8-10 colo caricatures/hour
PRINT SIZE(s)
•4x6
•x
HARDWARE / SOFTWARE
• Cintiq Companion and Mobile Studio Pro, along with back up iPad tablet Portable color printer and cable connections, Corel Painter, Photoshop, Procreate, Art Studio, Sketchbook Pro
REQUIRES
from customer • 2 chairs, small table and outlet
ALSO OFFERS
• Display Option: TV on stand- free
• Display Option: TV on table stand- for a charge of $210

• Display Option: projector and screen- for a charge of $55

• Print customer logo on prints - free
• Print custom theme on prints for a charge of $105


*Prices subject to change. December/Holiday rates may be higher.
**Number of people per hour is approximate and cannot be guaranteed.

02000